Mill-Max Introduces Low Profile Solder Cup Headers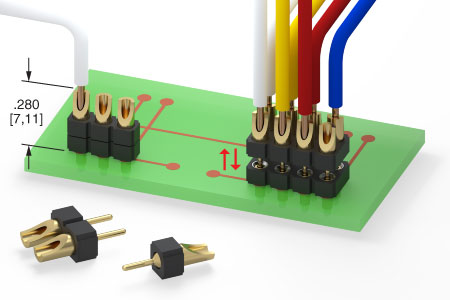 A space saving solution for wire to board applications
Mill-Max is proud to present a new, low profile solder cup header delivering a 25% reduction in height as compared to our current product. These solder cup headers are ideal for making wire to board connections where keeping overall height to a minimum is essential.
The new 380-10-1XX-00-002000 (single row) & 480-10-2XX-00-002000 (double row) products feature a standoff height of .185" (4,7 mm), .100" (2,54 mm) pin spacing and .020" (,51 mm) diameter tails suitable for mating with a variety of sockets or terminating directly to a P.C.B. The insulator material is Nylon 46 with an HDT of 290° C to withstand most soldering processes. The solder cups are uniformly aligned to facilitate efficient soldering, especially useful for terminating cables, and can accept up to 22 AWG stranded wire. When mated with Mill-Max low profile board mounted sockets 315-XX-1XX-41-003000 (single row) or 415-XX-2XX-41-003000 (double row) a total interconnect height of .280" (7,11 mm) is achieved. They can also mate with Mill-Max standard solder cup sockets 329-XX-1XX-41-540000 (single row) or 429-XX-2XX-41-540000 (double row) for use in wire termination applications such as cable assemblies.
The solder cup pins are precision turned from brass alloy and are plated with 10 u" gold providing interconnect reliability, corrosion protection and wear resistance. Connectors are available from 1-64 positions, single row and 2 -72 positions double row.
For more information use the links to the right for additional product details, to order a sample, or to find related products.
Need technical help or looking for a custom design? Use the form below to contact Mill-Max Technical Services.