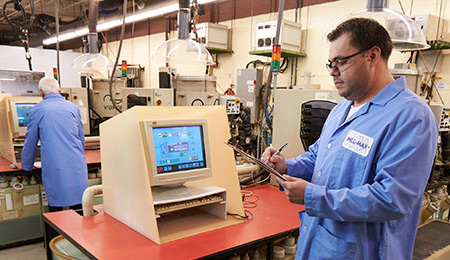 Quality Assurance
Mill-Max has become a leading supplier of interconnect components through continual development of techniques and state of the art equipment to manufacture higher quality competitive products. We are committed to providing services and products to meet our customers' needs as we continue to pursue our company objectives.
Read More
About our Quality Operating System
Mill-Max Mfg. Corp. has continuously grown and developed for over 50 years. Due to the diversified industries our products are used in, our customers subscribe to various Quality Operating Systems. The policies and operating procedures developed by Mill-Max have been established to be compliant with , MIL-I-45208, QS9000, ISO-9001, and AS9000.
We continually enforce the Policies and Procedures described in our Quality Assurance Manual to ensure our compliance to those Quality Operating Systems. If you have special needs regarding certifications and testing, please contact our Quality Assurance Department.
In order to serve our customers better, we have developed a Company Profile Information Package. The information contained in the Profile has been developed from the hundreds of Supplier Surveys we have received. We believe this will satisfy your need for information about Mill-Max Mfg. Corp. and is the quickest way to answer your immediate questions and concerns about Mill-Max and eliminate the delays associated with completing Customer specific surveys.
If you have any questions regarding the content of this document, or if you have any additional questions that are important to you, please contact our Quality Assurance Department.
Thank you for your interest in Mill-Max.
- Christopher Galasso, Director of Quality Assurance.