Precision Machined PCB Sockets and Micro Plugs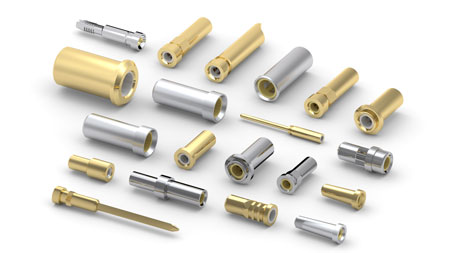 PCB Sockets are individual component lead sockets primarily used for the plugging and unplugging of components on pc boards. Suitable for applications subject to high amounts of vibration and shock, Mill-Max PCB sockets are made by press-fitting a pre-tooled "multi-finger" contact into a precision machined shell. These receptacles will accept round pins ranging in diameter from .008" to .102" as well as square & rectangular component leads and are available in various shapes and sizes.
Mill-Max Mfg. Corp. is the leading U.S. manufacturer of machined PCB socket contacts and micro plugs. Our highly automated facility houses hundreds of production machines and a state-of-the-art plating department allowing us to ship in excess of 4 billion components annually. For more information feel free to review review our Introduction To Pin Receptacles, or start your search below to see our varied product offering. Remember, custom applications with low minimums are our specialty. Contact a technical representative today!
Need technical help or looking for a custom design? Use the form below to contact Mill-Max Technical Services.