Machined Pin PGA Sockets and Interconnects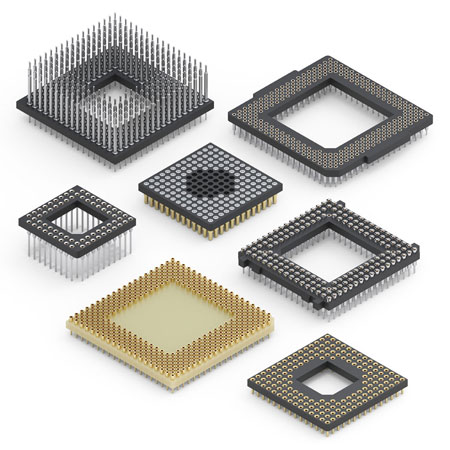 Mill-Max Pin Grid Array sockets are designed to accept high pin count IC's, using low force 6-finger contacts to ease insertion/extraction of the device. Our standard low force #32 contact is used for pin counts up to 150, our ultra-low force #35 contact is recommended for 150 pins or more but less than 250 pins. The "ultra lite" #43 contact is recommended for 250 pins or more.
Mill-Max PGA sockets all have precision machined pins, offering the lowest possible profile. The closed bottom design also eliminates flux and solder contamination, and the pins are in-line with contact entry. Insulator bodies are molded from high temp. PCT polyester suitable for all forms of soldering including wave, infra-red reflow and vapor phase.
All PGA sockets accept .015" - .025" dia. and standard IC leads.
Hi-Rel, 4-finger BeCu inner contact rated at 3 amps.
Contact pins are manufactured for High-reliability - 2 piece construction
Gas tight seal - Environmental conditions will not affect the integrity of the contact.
In addition Mill-Max offers surface mount PGA sockets with "floating contacts". These surface mount PGA sockets with "floating contacts" contain unique pin receptacles which compensate for the effects of unevenly dispensed solder paste. These contacts allow .008" vertical travel, reacting to capillary action as the solder paste melts.
All Mill-Max sockets use precision machined pins which eliminates any possibility of solder wicking or flux contamination. Press-fit into each pin receptacle is a low force beryllium copper 6-finger contact renowned for greater compliancy and proven reliability. To find a PGA Header or Socket for your specific application, begin your search below using our product finder.
Still can't find what you are looking for? Mill-Max will gladly quote application specific products. Need technical help or looking for a custom design? Use the form below to contact Mill-Max Technical Services.