Integrated Circuit (IC) Sockets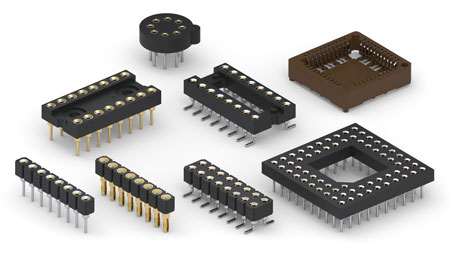 Mill-Max Mfg. Corp. is the leading U.S. manufacturer of machined pin IC Sockets. Our highly automated facility houses hundreds of production machines and a state-of-the-art plating department allowing us to ship in excess of 4 billion components annually. Mill-Max complements high speed-turning with a comprehensive selection of pre-tooled "multi-finger" spring contacts. Female receptacles are made by press-fitting one of these contacts into a precision machined shell.
All machined IC sockets accept .015" - .025" (0,38 - 0,64) dia. and standard IC leads.
Lubricated contacts also available.
Hi-Rel, 4-finger BeCu inner contact rated at 3 amps.
Contact pins are manufactured for High-reliability - 2 piece construction
Gas tight seal - Environmental conditions will not affect the integrity of the contact.
Still can't find what you are looking for? Mill-Max will gladly quote application specific products. Need technical help or looking for a custom design? Use the form below to contact Mill-Max Technical Services.