Integrated Circuit (IC) Sockets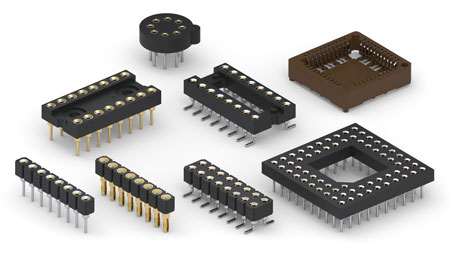 Mill-Max Mfg. Corp. is the leading U.S. manufacturer of machined pin IC Sockets. Our highly automated facility houses hundreds of production machines and a state-of-the-art plating department allowing us to ship in excess of 4 billion components annually. Mill-Max complements high speed-turning with a comprehensive selection of pre-tooled "multi-finger" spring contacts. Female receptacles are made by press-fitting one of these contacts into a precision machined shell.
All machined IC sockets accept .015" - .025" (0,38 - 0,64) dia. and standard IC leads.
Lubricated contacts also available.
Hi-Rel, 4-finger BeCu inner contact rated at 3 amps.
Contact pins are manufactured for High-reliability - 2 piece construction
Gas tight seal - Environmental conditions will not affect the integrity of the contact.
Use the links on the right to search our website for our varied product offerings, and remember custom applications with low minimums are our specialty. Contact a technical representative today!