First Mate/Last Break Spring-Loaded Connectors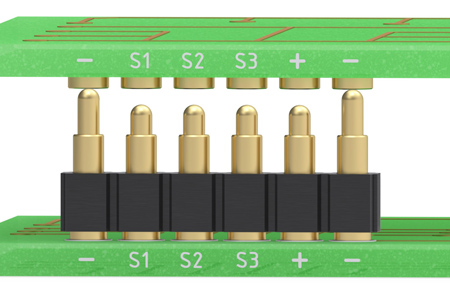 Tiered contact arrangement for applications requiring sequential connections
Mill-Max has expanded its line of spring-loaded products with single and double row First Mate/Last Break (FMLB) connectors. These connectors support applications where electrical signals must be made and broken in sequence rather than all at once, such as in hot swapping or hot plugging.
A common use for First Make/Last Break (FMLB) connectors is to ensure the ground path is established before any other power or signal connections are made. This is done to eliminate stray currents from damaging devices or components. During hot plugging or hot swapping, if no ground contact is established first, the circuit may generate equalizing currents seeking a low resistance path. These currents may run between devices or components in a direction which can cause damage and failures. The same is true on disconnect with the ground path remaining in place until all other signal are deenergized. In other applications FMLB connectors may be used to power indicator lights or send an alert signal before energizing the prime circuit of the unit. The applications are varied and many.
This product release includes six new connectors, three unique configurations each available in single and double row versions, all on .100" (2.54 mm) pin centers. The single row versions have taller pins in the first and last positions, the double row versions have four taller pins, two on each end. There are four SMT and two through hole connector options. The low profile SMT versions, 811/813 series, have an initial height of .217" (5.51 mm) for the tallest pins with a .020" (.51 mm) offset to the remaining pins, while the 812/814 series provide an initial height of .288" (7.32 mm), an offset of .033" (.84 mm) and .090" (2.3 mm) maximum stroke on the longer end pins to allow for greater compression. The through hole connectors, 825/827 series, have an initial height of .332" (8.43 mm), for the tallest pins, an offset of .030" (.76 mm) and each pin has a maximum stroke of .090" (2.3 mm). The connectors feature spring pins with precision-machined external components and high reliability internal springs, all gold-plated to ensure the highest conductivity, corrosion resistance and durability. The pins have a current rating of 2 amps and the connector housings are molded from high temperature thermoplastic, suitable for most soldering processes. With the wide variety of spring-loaded pins Mill-Max manufacturers, these are just a few of the many possible connector combinations we can produce. Contact our technical services staff to discuss your application and how we may be able to address your needs.
Need technical help or looking for a custom design? Use the form below to contact Mill-Max Technical Services.