Compression Mount Spring-Loaded Connectors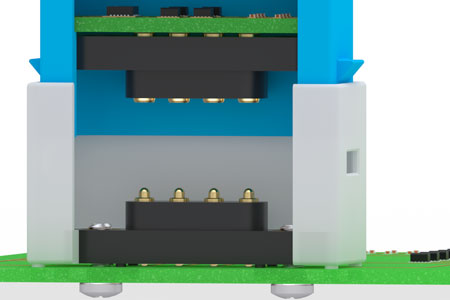 Spring-Loaded contacts with two working plungers provide
adjustable connections between mating components.
Our solderless, compression style spring-loaded connectors have two active plungers and are designed to utilize hardware to secure them in position. Since no soldering is required, they facilitate easy adjustment and flexibility during assembly and removal and replacement are simplified.
The 858-22-00X-80-XX1101 and 858-22-00X-80-XX2101 connectors are new additions to our 4 mm pitch rugged spring-loaded series, they are the first Mill-Max connectors to incorporate spring pins with active plungers at each end. This unique feature makes these connectors ideal for situations in which a soldered connection is not desirable or may not be possible due to design constraints such as temperature considerations, stack up tolerance issues or where ease of assembly and disassembly is required. With spring-loaded plungers as the interface at both ends, the connector is sandwiched between two mating surfaces using screws to compress the plungers on the base end, eliminating the need for soldering. The opposite end plunger then acts as any other spring-loaded connector, ready to engage with a mating device or board.
Environments, such as in medical or research applications, where devices and mating surfaces must be wiped down and cleaned regularly are an excellent use for solderless, compression connectors as they are easy to assemble and disassemble. Test fixtures would also be a good fit as over time the connector will need to be replaced and is done easily, without de-soldering. Docking stations, quick connects or any assembly which relies on a mechanical means to secure the device to the dock or stationary end are very well suited for these connectors along with a variety of board stacking applications. There are two different plunger travel arrangements available - .045" stroke for both plunger ends or .030" on base end and .060" on device end. Both are single row and are available with or without alignment pins and threaded inserts. The spring pins are of the rugged variety, rated for 9 amps and with stainless steel springs capable of maintaining spring force at elevated temperatures over time.
Need technical help or looking for a custom design? Use the form below to contact Mill-Max Technical Services.