4mm Target Connectors for Rugged Spring-Loaded Connectors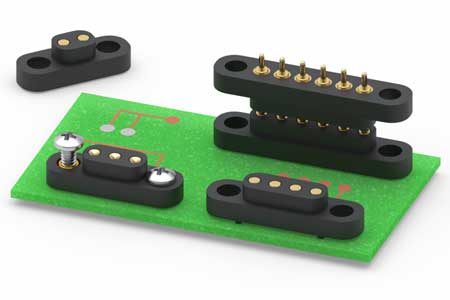 Introducing a new target connector on 4 mm pitch designed for rugged applications incorporating a flanged base and hardware options for secure mounting. This target connector series is designed to be used as the mating half to our Rugged 4mm Pitch Spring-Loaded Connectors.
Offered in 2-6 positions in through-hole, SMT and SMT with alignment pin versions, the 4mm target connector series features a high temperature molded Nylon 46 housing that is compatible with RoHS soldering processes. Mounting tabs, integrated into the housing, provide a means for secure attachment to the PCB or product assembly. The tab holes may be specified with threaded inserts or left empty for other hardware requirements. The flanged base provides stability for the connector. The pins are plated with 10 micro inches hard gold over nickel for durability and excellent conductivity.
Additionally, these connectors are offered with the choice of either a flat or concave face on the mating side of the pins. The flat face style is .082" (2,08 mm) in diameter providing ample target area for the .050" (1,27mm) diameter mating plunger. Concave face targets provide additional surface area when mated and can aid in centering/alignment of components fitted with spring loaded connectors during manual engagement.
In common with all Mill-Max products, the new target pins employ high-speed precision turning with tight tolerances. The overall pin length tolerance of +/-.001" (,0254 mm), combined with established in-house manufacturing and assembly techniques produce a connector with co-planarity of .005" (0,127 mm) or better. Advanced machining processes are employed to ensure there are no cut-off burrs on the face or SMT base of the pins to impede the electrical connection and attachment to the P.C.B. The table below provides details of the features for each part number in the series.
For more information use the links to the right for additional product details, to order a sample, or to find related products.
Need technical help or looking for a custom design? Use the form below to contact Mill-Max Technical Services.