Expanded Line of Discrete Insulated Spring-Loaded Pins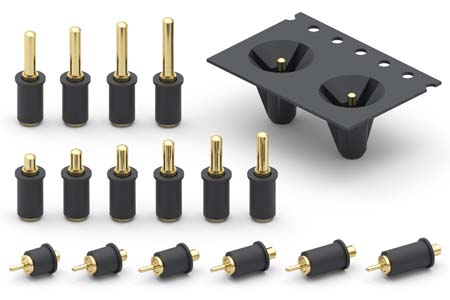 Due to customers' demand, Mill-Max has expanded its line of discrete insulated spring-loaded pogo pins. Our original 807-22-001-30-00X101 series are SMT insulated pins in seven heights from .100" (2,54mm) to .236" (5,99mm) with working travel from .012" (0,3mm) to .0275" (0,7mm). The new SMT spring-loaded pins, 807-22-001-30-01X101, are available in ten heights from .255" (6,48mm) to .430" (10,9mm) with a working travel of .0275" (0,7mm). We now also offer new through-hole mount spring-loaded pins, 807-22-001-10-00X101, available in six heights from .137" (3,48mm) to .236" (5,99mm) with a working travel of .0195" (0,5mm) and .0275" (0,7mm).

These products are used in applications where electrical isolation is required. The plastic sleeve provides insulation of the spring pin terminal for situations such as passing through a printed circuit board or conductive housing, or for isolating the pin from surrounding conductive components or elements in an assembly.

All three series are available in bulk or on 16mm wide carrier tape for automated pick-and-place assembly. The insulator sleeve keeps the component stable in the pocket to facilitate the pick-and-place process.

The high temperature nylon 46 insulators are suitable for RoHS soldering processes. The spring pins are constructed of precision-machined, gold-plated components and gold-plated beryllium copper springs. (The 807-22-001-30-000101 has a gold-plated stainless steel spring.) All are rated at 2 amps continuous, 3 amps peak and have a mechanical life of 1,000,000 cycles.

For more information use the links to the right for additional product details, to order a sample, or to find related products.
Need technical help or looking for a custom design? Use the form below to contact Mill-Max Technical Services.