Triple Row Header Strips and Triple Row Solder Tail Socket Strips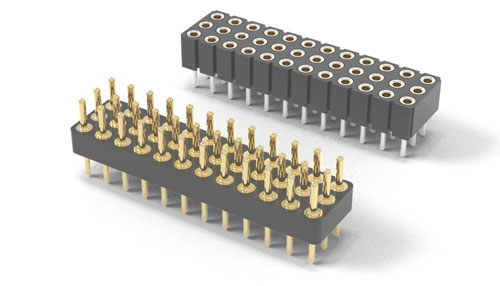 The new Mill-Max 804 and 805 series interconnects are ideal for high pin count I/O and board-to- board applications. The triple row pin field allows for signal connections to be more densely packaged. Also, placing and soldering one connector rather than three SIP sockets or a single and double row combination increases assembly efficiency and improves positional accuracy. This triple row package, on .100" (2,54 mm) grid, is available from 9 to 96 position configurations (ordered in increments of 3.)

The 804 & 805 series connectors are RoHS compliant featuring high temperature thermoplastic insulators compatible with lead free soldering temperature requirements. The receptacle shells of the 805 series socket pins are plated with 200µ" pure matte tin. Hard gold plating, on both the 804 series header pins (10µ") and the 805 series receptacle internal contacts (30µ,") provides optimum conductivity and effective wear resistance.

All Mill-Max pin headers and receptacle sockets feature high-speed screw-machined pins and receptacles manufactured to precision tolerances. Inside each 805 series receptacle is a precision stamped beryllium copper Mill-Max #47 contact clip with a pin acceptance range of .025 - .037" (0,64 mm - 0,94 mm) diameter or a .025" (0,64 mm) square post and a current rating of 4.5 amps.

Selectively loaded pin configurations can be quoted to customer specification.
Need technical help or looking for a custom design? Use the form below to contact Mill-Max Technical Services.