SMT Spring-Loaded Contact (Pogo) Pins on Tape and Reel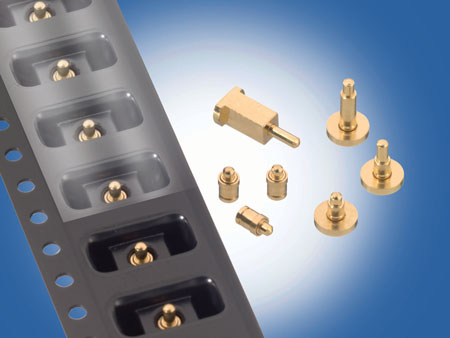 Mill-Max is pleased to announce the development of several new SMT Spring-Loaded Connectors (SLCs). All are offered as discrete contacts and many are available in tape and reel packaging.
New Mill-Max part family 0910-0 and 0910-1 through -4 are discrete SLCs specifically designed for production tape and reel assembly.
Part 0967 is a horizontal mount SMT SLC designed for low-profile board to board interconnections.
New Mill-Max part family 0990-0 and 0990-1 through -4 and 0997-0 through -9 are discrete SLCs featuring a large base utilized for either increased PCB stability or assembly in non-PCB applications such as a face plate. These part families offer a range of application heights from .137" to .430" (3,48mm to 10,92mm.)
Need technical help or looking for a custom design? Use the form below to contact Mill-Max Technical Services.