Every Mill-Max SMT Spring-Loaded Connector Now Offered on T&R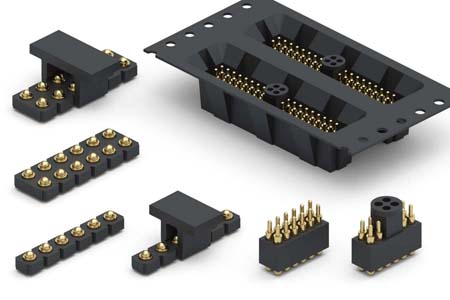 Three additional Mill-Max SMT spring-loaded connectors are now available packaged on tape and reel. With this development, all SMT spring-loaded connectors are now offered on tape and reel for automated pick & place assembly.

The 855-22-XXX-30-002191, from 4-40 positions, are double row and on a space saving .050" (1.27 mm) grid. Each spring pin features a base geometry of .029" (0,74 mm) round by .010" (0,25 mm) tall to maximize soldering surface area and provide secure attachment to the PCB. They can now be supplied on tape and reel thanks to a special "cap" which provides a pick & place surface for easy removal from the pocket and placement on the board. Each pin position has its own size tape. Please speak with an applications engineer for details.

The lowest profile spring-loaded connectors, just .100" in height are offered in single row, series 815-22-0XX-30-001191 and double row, series 817-22-0XX-30-001191, both on .100" (2,54 mm) grid. The single row is available in 2-10 positions and the double row in 4 -20 positions. Both the 815 and 817 series have a rated travel (mid stroke) of .012" (,3mm) and full stroke capability of .020" - .024" (,508 - ,61 mm). For surface mount applications where above board height is limited, these connectors are ideal.

The 815 series is packaged on 44mm wide tape, 910 parts per 13" reel; the 817 series comes on 44mm wide tape, 680 parts per 13" reel.
For more information use the links to the right for additional product details, to order a sample, or to find related products.
Need technical help or looking for a custom design? Use the form below to contact Mill-Max Technical Services.