Surface Mount Single In Line (SIL) Sockets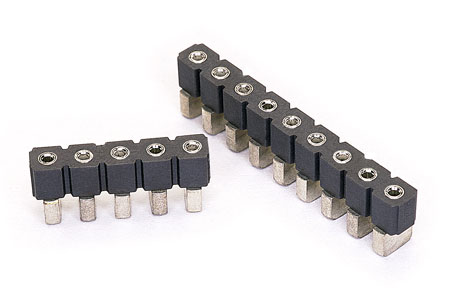 Unique "block" surface mount terminals achieve a reduced width of footprint, only .125" wide compared with .183" for traditional "gull wing" designs.
Block terminals provide a low .200" profile and assure secure surface attachment to the circuit board. Terminals are precision-machined brass and tin-plated.
Each terminal is fitted with a Mill-Max #30 (four-finger) beryllium copper spring contact. These contacts accept pin diameters from .015" to .025" as well as square and rectangular component leads. Heat-treated BeCu is the best electrical spring contact material to assure security and reliability.
Insulator material is high temp. polyester (PCT), suitable for all soldering processes.
Available in sizes up to 64 pins long, insert the number of pins required for "XX" in the following part number: 340-XX-XXX-30-780100
Need technical help or looking for a custom design? Use the form below to contact Mill-Max Technical Services.