Mill-Max Mfg. Corp. Expands Crimp Pin Product Offering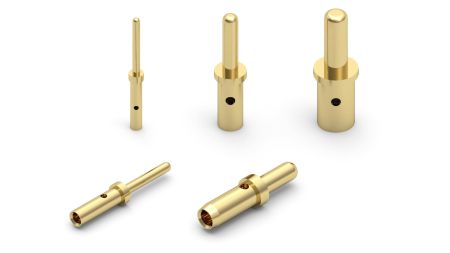 Mill-Max is pleased to announce the addition of new crimp pins to our selection of wire termination products. These new pins are commercial-off-the-shelf (COTS) equivalents to the popular Mil-Spec M39029 crimp pins. If your application does not require Mil-Spec components but demands the same reliability and form factor, then these pins will fit the bill perfectly. There are five new terminals to choose from, all precision-machined to the highest quality and available in both gold and tin plating options. Each of the pins has an inspection hole for viewing the wire during the crimping process and for promoting plating coverage inside the crimp hole. Table 1 below provides details of the pin size, wire accommodation size, Mill-Max part numbers & the associated Mil-Spec part numbers. The Mill-Max part numbers in Table 1 specify 10 µ" gold plating. These pins are also available with 50 µ" gold or 200 µ" tin plate finish. Each plating option has a nickel under-plate.
These crimp pins are ideal components for making up cable assemblies. Since they conform to the dimensions of the Mil-Spec parts, the same crimp tooling can be used to terminate the wires.

Table 2 below provides the Daniels Manufacturing crimp tooling information for these pins. Followed by a short instructional video on how to use these tools.
For more information use the links to the right for additional product details, to order a sample, or to find related products.
Need technical help or looking for a custom design? Use the form below to contact Mill-Max Technical Services.