Single and Double Row .050" Pitch SMT and Through-Hole Spring-loaded Connectors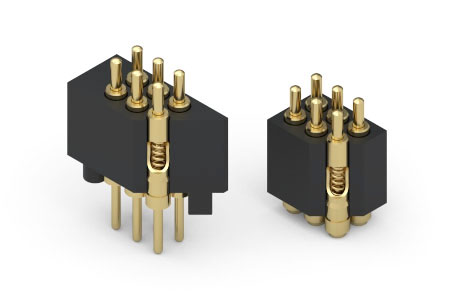 Mill-Max has developed high density, .050" (1,27mm) pitch through-hole and surface mount spring-loaded connectors (SLC) available in single and double-row strip packaging.
Each precision-machined spring pin component is plated 20µ" hard gold and assembled in a high temperature thermoplastic insulator suitable for wave and reflow soldering processes. Every Mill-Max SLC is RoHS compliant.
Series 854-XX-XXX-10-001101 and 855-XX-XXX-10-001101 through-hole insulators feature molded standoffs to improve soldering and cleaning beneath the connector. Tail diameters of .016" require minimal diameter plated holes for connector mounting, maximizing signal routing between pins.
Series 854-XX-XXX-30-001101 and 855-22-0XX-30-001101 surface mount spring connectors are low profile, standing less than .230" tall when engaged mid-stroke (.0275"). Each SMT spring pin features a base geometry of .029" round by .010" tall to maximize soldering surface area and promote solder joint fillet.
Mill-Max also offers multiple options of .050" (1,27mm) pitch Target Connectors. These provide a gold-plated, flat and conductive mating surface for the 854/855 series and are precision-machined contacts assembled into thermoplastic insulators. They are RoHS compliant and suitable for reflow soldering.
Mill-Max SLC's are often used as the internal battery connection in portable instruments, as the external battery connection for charging these instruments (docking stations), or for stacking printed circuit boards in an assembly. Spring pin connectors are also excellent for mezzanine-tiered board modules that require blind mate assembly.
Need technical help or looking for a custom design? Use the form below to contact Mill-Max Technical Services.