.050" (1,27mm) Grid SMT Board to Board Interconnects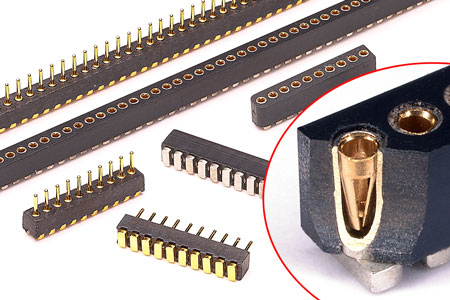 Mill-Max now offers a miniature "self-standing" single row connector pair for surface mount applications.
"Self-standing" socket and pin header design minimizes the printed circuit board footprint, i.e.: pad lengths are less than half of those required by traditional "gull wing" connector designs.
Height of mated pair is only .218" (5,54mm.)
Available in lengths from 2 to 50 pins.
High temp. thermoplastic insulators are suitable for all forms of reflow soldering including "lead-free."
Reliable performance is assured through the use of Mill-Max's precision-machined pin and beryllium copper contact technology.
Typical applications for this product would be as a board-to-board mezzanine connector in hand-held instruments. It could be used to simplify final assembly or to permit future upgrade of the instrument.
Need technical help or looking for a custom design? Use the form below to contact Mill-Max Technical Services.