New Wire Termination Pins and Receptacles from Mill-Max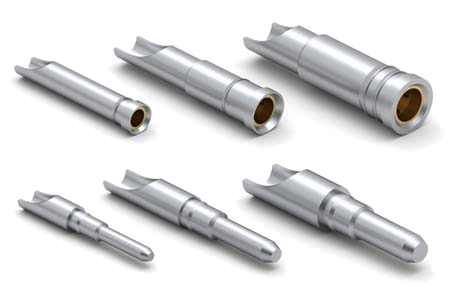 Mill-Max is expanding its line of wire termination products by introducing six new pins and receptacles, three mated pairs, which facilitate the wire attachment process. Each features a solder cup for easy and efficient soldering and is Precision-Machined to provide the consistent and reliable interconnections expected of Mill-Max products.
These mated pairs of pins and receptacles are ideal for use in cable and wire harness applications and, as they all incorporate press-fit features on the barrels, are perfect for assembling into connector configurations per specification. Each pair is designed to support either 20, 16 or 14 AWG wires (see table below). The receptacles are a two piece construction with a precision-machined outer shell and stamped beryllium copper internal contact. Like all Mill-Max receptacles they are capable of multiple insertion and extraction cycles and are rated to carry current matching that of the wire sizes the solder cups are designed to accept. The tables below provide details of the pin size, wire accommodation size, current rating and the Mill-Max part numbers of the mating pairs. The pins and receptacle shells are plated pure tin, matte finish, ready to accept solder. The receptacle inner contact is gold-plated, 30 µ", for durability and conductivity. Other plating options are available upon request.
For more information use the links to the right for additional product details, to order a sample, or to find related products.
Need technical help or looking for a custom design? Use the form below to contact Mill-Max Technical Services.