Ultra-Low Profile Spring-Loaded (Pogo) Connectors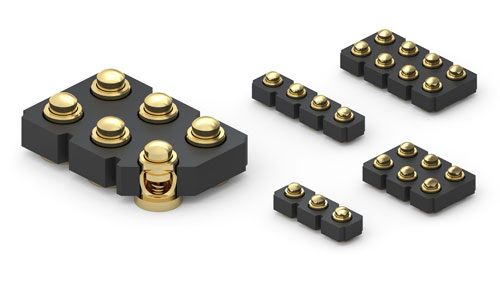 Mill-Max introduces our lowest profile spring-loaded connectors, just .100" in height. The trend toward miniaturization in electronic packaging demands ever smaller interconnects that deliver high quality performance. For board-to-board or device-to-board connections, these low profile spring-loaded connectors are a practical solution.
The new connectors are offered in single row, series
815-22-0XX-30-001101
and double row, series
817-22-0XX-30-001101
, both on .100" (2,54 mm) grid. The single row is available in 2 to 32 positions and the double row in 4 to 72 positions. For surface mount applications where above board height is limited, these connectors are ideal with an above board profile of .100", a
rated travel (mid stroke)
of .012" (0,3 mm) and full stroke of .024" (0,61 mm.)
These low profile spring-loaded connector options maintain the quality and reliability of current Mill-Max spring pin connectors by utilizing the same technology & internal spring components. Gold-plated components and springs ensure the highest conductivity, corrosion resistance and durability. The spring- loaded pins used in these connectors are rated for one million cycles and have a current rating of 2 amps continuous use (3 amps maximum.) The high temperature plastic housing is suitable for all soldering processes and the connectors are RoHS compliant.
Need technical help or looking for a custom design? Use the form below to contact Mill-Max Technical Services.