New Through-Hole Version 2mm Pitch Spring-Loaded Connectors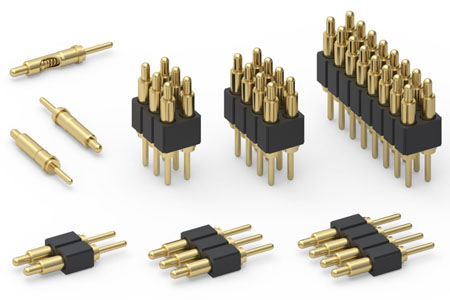 Mill-Max has added a through-hole version of our 2mm pitch spring-loaded connectors to complement the series' surface mount version. As always, real estate is at a premium in electronic packaging with designers demanding tighter pitch interconnects that deliver high quality performance. These spring-loaded connectors (SLC's) are an appealing option combining both durability and space saving qualities. For board-to-board or device-to-board connections with the additional security of through-hole mounting, these 2mm spring-loaded connectors are a practical solution.

The connectors feature spring pins with a rated travel of .0275" (0,7mm) and a maximum travel of .055" (1,4mm). The initial, uncompressed, height of the connectors from the board surface is .295" (7,5mm). Mill-Max also offers standard 2 mm pitch mating target connectors in through-hole and surface mount varieties, each with the option of a flat or concave face. When mated with through-hole target connectors, at mid-stroke, a board to board height of .425" (10,8 mm) is achieved; .408" (10,35 mm) with the SMT targets. The connectors feature a solder tail diameter of .022" (,56mm) and a plunger diameter of .032" (,81mm) allowing adequate space for laying out the PCB holes, pads and traces on both the solder and mating sides of the connectors.

These new through-hole SLC's are offered in single row, series 836-22-0XX-10-001101 and double row, series 838-22-0XX-10-001101. Standard availability is 2 to 50 positions for single row and 4 to 100 positions for the double row. Both series are designed for manual placement into ⌀ .030±.003" plated through-holes in the circuit board prior to hand, wave or reflow soldering.

The new 2mm pitch spring-loaded connectors maintain the quality and reliability of current Mill-Max spring pin connectors by utilizing the same precision-machined components and internal spring components. Gold-plated components and springs ensure the highest conductivity, corrosion resistance and durability. The spring-loaded pins used in these connectors have a current rating of 2 amps continuous use (3 amps maximum.) The high temperature plastic housing is suitable for all soldering processes and the connectors are RoHS compliant.

For more information use the links to the right for additional product details, to order a sample, or to find related products.
Need technical help or looking for a custom design? Use the form below to contact Mill-Max Technical Services.