Mill-Max Offers New Super Speed USB 3.0 Connectors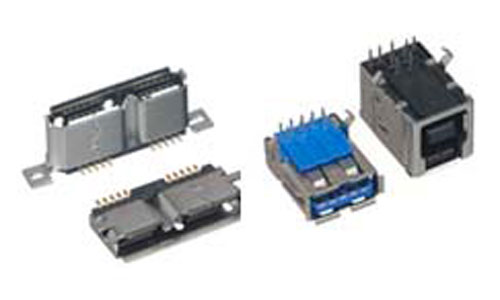 Mill-Max has expanded its USB family to include four new USB 3.0 connectors. USB 3.0, SuperSpeed USB, provides a 10 X faster data transfer rate over Hi-Speed USB with a 5 Gbps signaling rate. SuperSpeed USB is a Sync-N-Go technology that minimizes user wait time and provides optimized power efficiency. Mill-Max is offering both standard size and micro USB 3.0 connectors. USB 3.0 is fully backwards compatible with USB 2.0.

The standard style is available in Type A and Type B configurations for through-hole mounting. The connectors are fully shielded, have plug retention tabs and kinked locating legs for secure PCB retention. Both connectors have 9 pins. 896-XX-XXX-90-300000 is the Type A and is packaged 100 parts per tray. 897-XX-XXX-90-300000 is the type B and is packaged 80 parts per tray.

Micro USB 3.0 connectors offer more options when smaller solutions are necessary. They are smaller and lighter than existing USB connectors for portable and handheld devices. They feature 10 pins and 0.66mm pitch (.026"), thereby, reducing the board space required for mounting. The 897-XX-XXX-00-300002 is a vertical mount version and is packaged on tape & reel: 900 parts per reel. The 897-XX-XXX-40-300002 is the horizontal surface mount option and is packaged 1,500 parts per reel.
Need technical help or looking for a custom design? Use the form below to contact Mill-Max Technical Services.