Surface Mount (SMT) Gull Wing DIP Sockets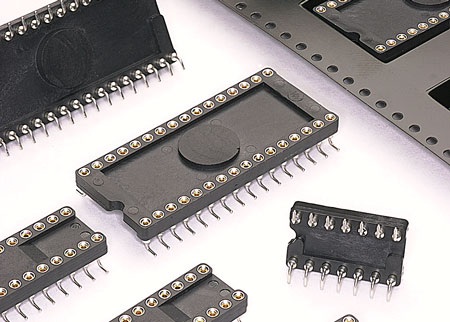 A family of eleven sizes is now available from 6-pin on .300' centers to 40-pin on .600" centers.
Traditional gull-wing leads permit easy visual inspection of the solder joints from the top of the circuit board (preferred by "military" customers.)
Closed frame insulators are vision system compatible with industry standard pick and place machines.
Insulators have a central vacuum pad for handling by the pick and place machine.
Insulator material is high-temp Nylon 46, suitable for all forms of reflow soldering including "lead-free."
Sockets are available packaged in tubes or on carrier tape per EIA-481 (13" diameter reels.)
Sockets use precision-machined pins and stamped beryllium copper spring contacts for the highest reliability.
Need technical help or looking for a custom design? Use the form below to contact Mill-Max Technical Services.