Single-Row, .055" Stroke Right-Angle Spring-Loaded Connectors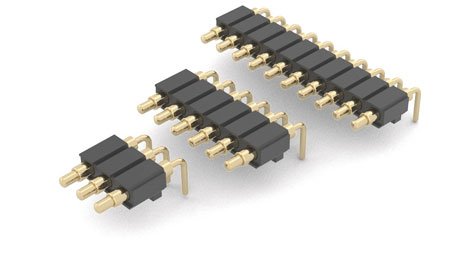 Mill-Max's 829-XX-XXX-20-001101 single-row, right-angle strips are the perfect solution for applications calling for a spring-loaded connection that lies parallel to the pc board. Spring-loaded connectors (SLC) are commonly used to provide a high quality battery interface connection and in applications such as board-to-board interconnects and blind mate assemblies. This low profile, right angle connector is ideal for the small packaging requirements of hand-held devices, especially where vertical space is limited.
Offering all the superior characteristics of our other spring-loaded products, the 829 series has an increased max-stroke distance of .055" – more than double most standard series product. For an even longer stroke version be sure to review part number 829-XX-XXX-20-002101, which offers .090" of stroke.
With tails bent at right-angles and locating pegs on the insulator, the 829 series is installed as a through-hole component providing a secure connection to the pc board.
These SLC's are suitable for hand, intrusive reflow or wave soldering.
Rated at 2A continuous, 3A peak per pin, the 829 series is offered in up to 20 positions in a strip.
Need technical help or looking for a custom design? Use the form below to contact Mill-Max Technical Services.