Printed Circuit Board (PCB) Pins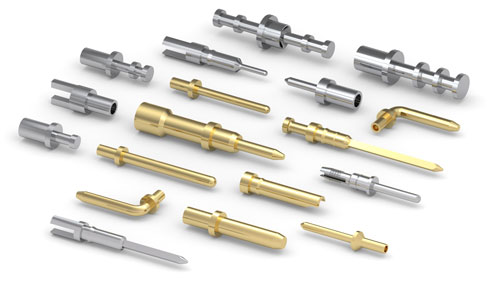 Mill-Max printed circuit board (PCB) pins are machined individual pins used for various plug-in applications and are functionally the dynamic building blocks within an interconnect system.
Benefits of Machined Pins:
Precision high-speed turning of pins to tolerances of +/-.0005" for critical to function features
Multi-Facet geometries for press-fit and surface mount applications
Cost efficient brass alloy for production runs, other alloys available
Seamless construction eliminates solder from entering the part
Custom design options available in as little as 5 weeks.
Turret, slotted, bifurcated(forked), soldercup, wire-wrap, nail-head, surface mount, and swage pin types are available. They are commonly fastened to printed circuit boards or other housings by being press-fit, swaged(riveted) or soldered. PCB pins serve not only as a conductive path for an electrical circuit, but provide strength to an assembly module as a mechanical interface. Mill-Max Mfg. Corp. has developed thousands of state-of-the-art "basic pin" designs, featuring pin barrel geometries for our customers who require outside-the-box solutions to their interconnect needs.

Mill-Max offers the following stock materials and diameters for manufacture:
BRASS Alloy 360/385: .062/.072/.078/.093/.125/.156/.187/.250 diameters
PHOSPHOR BRONZE Alloy 544: .062/.072/.078 diameters
TELLURIUM COPPER Alloy 145: .079/.093/.125/.156 diameters
For more information on our vast product offering choose a link to the right or use our product finder. Can't find what you are looking for? Mill-Max will gladly quote application specific products.