Mill-Max Introduces Five New Wire Termination Contacts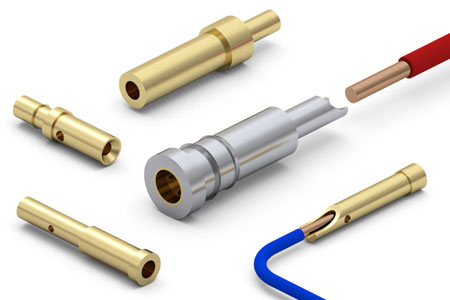 Mill-Max has expanded its selection of wire termination products with the addition of new wire crimp and solder cup receptacles. The three new wire crimp receptacles can accommodate wires from 22-26 AWG and accept mating pins in the popular .025" (,63 mm) - .040" (1,02 mm) range. The two solder cup receptacle additions provide solutions for solder terminations of disparate uses. The 9177 is ideal for high current, rugged applications handling currents in the 15 amp range while the 4485 can be used on pin-to-pin spacing down to 2 mm. Three of the five parts have inspection holes to accommodate wire viewing and to promote plating coverage inside the wire termination holes. Please see Tables 1 & 2 below for details.
Table 2 Solder Cup Receptacles
Solder Cup Receptacle
P/N
Wire
Accommodation

Mating Pin




Range Ø

Inspection




Hole

Current Rating at 10°C Temp. Rise
4485-0-51-15-21-27-10-0
22 AWG Max.
.015" - .022"
Yes
3 Amps
9177-0-18-80-07-27-10-0
16 AWG Max.
.065" - .082"
No
15 Amps
The receptacles are a two piece construction with a precision-machined outer shell and stamped beryllium copper internal contact. Like all Mill-Max receptacles, they are capable of multiple insertion and extraction cycles while maintaining reliable contact over the life of the product. Various shell and contact plating options are available.
For more information use the links to the right for additional product details, to order a sample, or to find related products.
Need technical help or looking for a custom design? Use the form below to contact Mill-Max Technical Services.