Mill-Max Introduces Gull Wing SMT .070" Pitch ShrinkDIP & SIP Sockets and Headers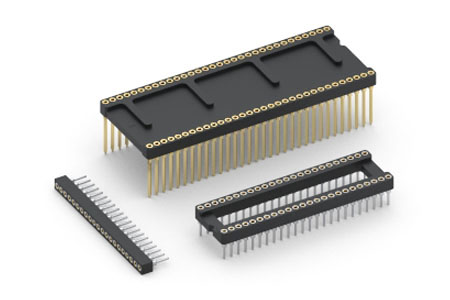 Mill-Max series 117, 127, 217 & 227 shrinkDIP sockets accommodate memory chips and components which have pin-to-pin spacing of .070" (1,778mm). The reduced pattern of the shrinkDIP series also saves valuable board space for board-to-board connections as more pin connections can be made using less "real estate" than standard .100" pitch patterns. They can also be mated with series 162 shrinkDIP headers for board-to-board connections.
The Mill-Max series 317 & 327 single-row "shrinkSIPs" are an ideal solution for most microelectronic applications. Mated with series 862 headers, they save critical board space when connecting two small boards together.
Available in both through-hole and surface mount, the Mill-Max shrinkDIP and shrinkSIP series sockets and headers are the perfect solution for today's products where designs are continually pressed to become smaller and smaller.
Need technical help or looking for a custom design? Use the form below to contact Mill-Max Technical Services.