Mill-Max Threaded Receptacles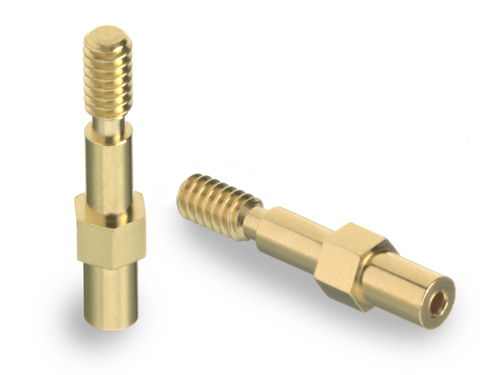 Mill-Max is pleased to announce threading and tapping capabilities (metric and inch sizes) for implementation on custom socket receptacles.
Applications include tapping the interior back-hole of a receptacle allowing for screw-attachment of threaded mating pins. Alternatively for specialized applications requiring a non-soldered, field-replaceable interconnect, such as a socket location terminated on a metal plate, a threaded or tapped pin receptacle can offer a solution.

4947 Exterior Threaded Receptacle

9342 Tapped Threaded Receptacle

Mill-Max receptacles are precision-machined using brass alloy 360 1/2 hard, an alloy known for its strength, conductive and thermal properties. Every receptacle is press-fit assembled with a hi-rel, beryllium copper contact (available in 39 different sizes to accept a range of mating pins .008-.102" (0,2mm - 2,59mm) in diameter.)
Need technical help or looking for a custom design? Use the form below to contact Mill-Max Technical Services.