Precision-Machined Pins for Terminating DC/DC (Power) Converters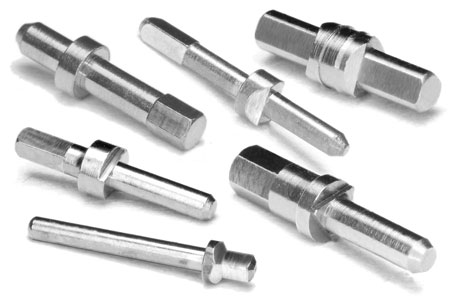 Mill-Max's Precision-Machined Pins for Power Converters are application specific pins primarily for terminating DC/DC (power) converters. They have many other uses where discrete pins and receptacles need to be installed in plated-through-holes of multilayer circuit boards.
The geometric press-fit features permit discrete signal and power pins to be installed directly into the plated-through-holes of the converter board.
After installation, the pins are reflow soldered as part of the SMT assembly process.
The pins have integral shoulders to define the seated height of the converter and allow airflow on both sides of the converter.
Pins can be machined from different copper alloys: brass is normally used for durability and tellurium copper is now available for high current (>50 amp) power pins.
For more detailed information review the article below, "Precision Machined Pins for Power Converters."
Need technical help or looking for a custom design? Use the form below to contact Mill-Max Technical Services.