High Temperature Beryllium Nickel Contacts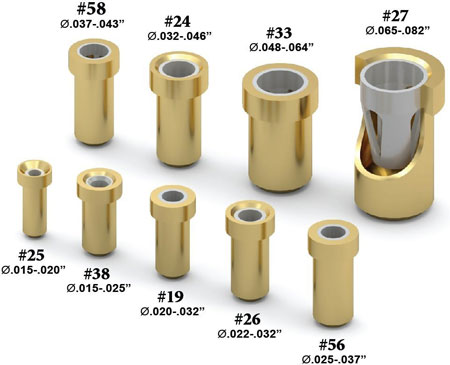 Mill-Max now offers nine contacts made from Beryllium Nickel Alloy 360 (UNS N03360.) Contacts made from Beryllium Nickel are recommended for receptacle applications where the Operating Temperature exceeds 150°C. Some common applications for these contacts are found in: the oil industry for down-hole wells and exploration; "Test & Burn-in" sockets for stress testing electronic devices (i.e. chips); high temperature commercial lighting fixtures (e.g. Halogen lamps) and Autoclave sterilization for the medical industry.

The table below shows the accepting lead diameter range for each contact and which standard contact clip it can be interchanged with.
High Temp Contact #
Accepting Pin Range
Interchangeable with Standard Contact #
25
.015"-.020"
(0,381mm - 0,508mm)
11
38
.015"-.025"
(0,381mm - 0,635mm)
30
19
.020"-.032"
(0,508mm - 0,813mm)
15
26
.022"-.032"
(0,559mm - 0,813mm)
06
56
.025"-.037"
(0,635mm - 0,940mm)
47
24
.032"-.047"
(0,813mm - 1,194mm)
34
58
.037"-.043"
(0,940mm - 1,092mm)
18
33
.048"-.064"
(1,219mm - 1,626mm)
13
27
.065"-.082"
(1,651mm - 2,083mm)
07
BeNi is suitable for continuous use up to 250°C, and periodic use up to 350°C, without significant loss of its spring properties (see graph). For use below 150°C, Mill-Max has an extensive range of 29 standard Beryllium Copper Alloy 172 spring contacts.

These nine contacts are available assembled in a wide range of standard precision machined receptacles (discrete sockets for printed circuit boards) and various types of socket assemblies (DIP, SIP etc.)These contacts are the internal spring member of the highly reliable, two piece Mill-Max receptacle and are not sold as individual items.
Need technical help or looking for a custom design? Use the form below to contact Mill-Max Technical Services.