Mill-Max Introduces High Current, Small-Scale Spring-loaded Pins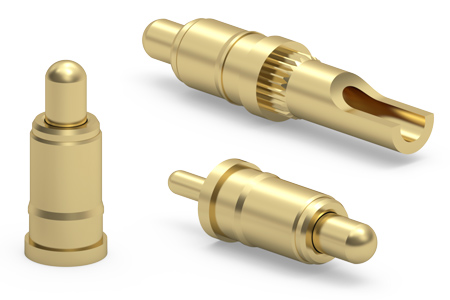 Miniature Spring-loaded pins suitable for 8-amp applications
Mill-Max Manufacturing Corp., Inc. is proud to announce the development of new spring-loaded pins delivering high current carrying capacity in a small form factor. They are ideal for charging applications as well as for directly delivering power via cable or board to board interconnects. The reduced size makes them attractive for use in low profile and dense packaging designs.
This new product offering is available in three different termination styles: surface mount, through-hole, and solder cup. All three meet two of the most demanding requirements designers currently face: the need for more power and a reduction in overall device size. They have a maximum current carrying capacity of 8 amps, 6.4 amps de-rated (@ 30˚C Temperature rise) with an above-board height of just .204" (5,2 mm) for the surface mount and through hole versions. The solder cup version has a total length of .374" (9,5 mm), all have a maximum diameter of .083" (2,1 mm). The current rating is based on the current-temperature derating curve shown in figure 1. We designed and constructed these spring-loaded pins to have more mass and greater contact surface area between the components. These design features result in lower overall bulk resistance, more efficient heat dissipation and electrical conductivity, all while delivering smooth operation throughout the stroke of the pin. Other attributes include gold plating on all components; cycle life rating of 1,000,000 at half stroke; contact resistance of 20mΩ max. and spring force of 60 grams at mid stroke (.0275", .7 mm).
These spring-loaded contacts are an excellent choice for docking stations, quick connects and blind mating applications, as well as in board to board and cable connectors. To choose the termination style that suits your application, reference the following part numbers: 0981-0-15-20-75-14-11-0 (Surface mount); 7982-1-15-20-75-14-11-0 (through-hole mount); 7983-1-15-20-75-14-11-0 (Solder Cup).
Need technical help or looking for a custom design? Use the form below to contact Mill-Max Technical Services.