"Stub Tail" DIP Sockets on Tape and Reel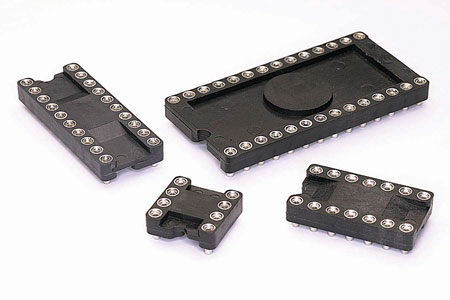 Mill-Max has responded to the growing trend towards automated surface mount assembly by offering its family of "pick and place" DIP sockets on tape and reel.
Designed for automated board assembly equipment such as Fuji and Panasonic, these "pick and place" DIP sockets feature a top pad for vacuum pick-up. The closed frame design allows the machine's vision systems to position and place the socket accurately. On the larger size sockets, there's also a vacuum pad beneath the socket for horizontal transfer on Fuji equipment.
Mill-Max "pick and place" DIP sockets contain unique "floating" contacts which compensate for the effects of unevenly dispensed solder paste. These contacts allow .008" vertical travel, reacting to capillary action as the solder paste melts. The insulator is molded from high temperature Nylon 46 material, suitable for vapor phase and infra-red reflow soldering. All products feature the Mill-Max famous "multi-finger" inner spring contact, renowned for its greater compliancy and proven reliability.
Mill-Max supplies "pick and place" DIP sockets on 13" diameter reels; from 8 pins to 32 pins, with tape widths from 16mm to 56mm. The sockets are protected by a clear, heat sealed cover tape. The cover tape is peeled back when the sockets are presented to the vacuum head.
Need technical help or looking for a custom design? Use the form below to contact Mill-Max Technical Services.